Although the term "omnichannel marketing" has been around for some time, many marketers are still trying to wrap their heads around what the concept actually means in practical terms. But as with many innovations that seem daunting at first, 'omnichannel' is fast becoming an indispensable cornerstone of modern marketing strategy as marketers realize it's not "complicated" – it's sophisticated. And these days it's entirely possible to conquer 'sophisticated' with the right marketing tech stack, and a mindset shaped by the understanding that data-driven everything is the way of the future.
What is Omnichannel Marketing?
The basic premise of omnichannel marketing is that rather than hit the customer with ads and promotional campaigns on multiple channels that act independently of each other (also known as multi-channel marketing), omnichannel campaigns still target customers on multiple marketing channels, touchpoints and devices, but they work together to create a single seamless journey – all the way from discovery to purchase (whether shopping online or in a brick-and-mortar store) – through highly personalized messages, often in real time. Using this customer-centric strategy provides unified and cohesive cross-channel messaging that enhances the customers' experience.
It's also a more efficient use of ad spend, because with a platform that allows marketers to analyze customer habits and preferences both online and offline, they can target their campaigns with far greater accuracy to achieve higher conversions, more revenue and improved ROI.
How the pandemic changed shopping habits and accelerated the urgency for omnichannel marketing
Lockdowns and brick-and-mortar store closures during the pandemic saw a huge jump in online shopping, with e-commerce in the US growing by 30% in 2020 alone, resulting in consumers who have become more digitally savvy, with more than half of U.S. e-commerce shoppers "enjoying trying new brands" and 63% spending time comparing products before they buy. Last year, amid supply chain issues more than 80% of consumers turned to alternative brands, demonstrating that customer loyalty is more challenging than ever.
But despite the temporary lull in physical retail during the pandemic, eMarketer's Insider Intelligence found that in-store sales rebounded by 8.2% in 2021, attributing the acceleration of the recovery by two full years (at least in part) to pent-up demand from in-person shoppers.
According to The NPD Group chief industry advisor Marshal Cohen, physical stores are more relevant today than they were before the pandemic: "Consumers are no longer buying primarily out of necessity and limited to online shopping which fell short of some expectations — choice has re-entered the equation and they are hungrier than ever for the experience of in-person shopping."
In the United States, for example, 81% of Gen Z consumers prefer to shop in store to discover new products, and more than 50% say in-store browsing is a way to disconnect from the digital world.
eMarketer now project that brick-and-mortar will grow between 2.6% and 3.4% by 2025, as have Statista, who have also estimated continued growth in physical retail.
Estimated value of the in-store and e-commerce retail sales worldwide from 2021 and 2025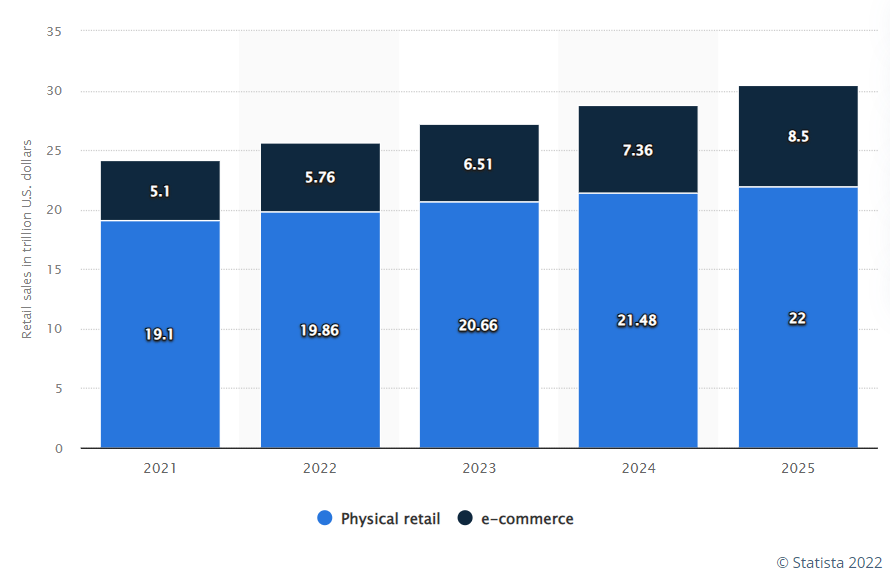 This is good news for physical retailers, but it also means they must now level up their game to cater to a new breed of consumer who is channel agnostic, and expects a shopping experience that's a hybrid of both online and offline habits and preferences.
To do this effectively, they can no longer rely on siloed platforms and marketing teams that operate independently from one another, because this approach fails to consider the customer journey from a 'birds-eye view' as it unfolds from beginning to end, often displaying repetitive marketing messages to the same customer at suboptimal times.
The only way to identify the progress of individual customer journeys at scale is to capture data from all touchpoints and channels in a single platform, and use it to generate highly-targeted audience segments and relevant insights that marketers can leverage to hyper-personalize customer communications for maximum impact, and to deliver the right message at the right time.
Forward-thinking retailers are experimenting with brick-and-mortar to attract shoppers who have either been dormant for too long, or who expect technology to facilitate their retail experience and guide their decision-making process.
As Retail Dive's Ben Unglesbee put it, "Retailers are making big investments today to blend their digital platforms with their store networks to make it easy for consumers to shop in the ways most convenient to them. The growth of both e-commerce and omnichannel sales add new costs and difficulties for retailers. But those retailers that can offer customers the best of both digital and physical shopping worlds are poised to keep growing."
To be successful, retail marketers will need to focus on creating exceptional in-person shopping experiences to stand out. One way to do this is to transform traditional stores into dual-purpose spaces designed to provide both product fulfillment and an entertaining, experiential in-store visit, as well as develop a robust omnichannel strategy that provides a seamless transition between online and offline shopping.
According to new insights from the 2022 Connected Retail Experience Study by Incisiv, 93% of retailers expect an increase in the use of consumer mobile devices in stores by 2025 and 83% of retailers anticipate an increased amount of technology deployed in stores.
A new breed of post-pandemic, digitally savvy consumer who demands both privacy and personalization
Despite the world moving towards marketing practices that adhere to stricter enforcement of user privacy – like GDPR, CCPA, Apple's rollout of AppTrackingTransparency (ATT) and the impeding phasing out of third-party cookies – consumers still expect marketing communications to be personalized and in tune with their specific needs. Indeed, personalized messaging is known to significantly increase conversions compared with one-size-fits-all messaging, and customer loyalty is increasingly reliant on a "who knows me best" mentality.
According to Accenture, 91% of consumers are more likely to shop with brands who recognize, remember, and provide relevant offers and recommendations.
But personalization as we knew it in the 2010s is no longer capable of meeting the demands of the post-pandemic, digitally savvy consumer who demands both privacy and personalization. In the 2020s (and for the foreseeable future) – hyper-personalization will give retail marketers the edge they need to succeed in the age of omnichannel shopping.
Hyper-personalization is a combination of marketing and data analytics, whereby marketers leverage sophisticated artificial intelligence (AI) and machine learning to collect and decipher vast troves of real-time customer data from multiple touchpoints and channels to create an ultra-detailed, per-customer marketing strategy. The data makes it possible to deploy customized advertising, products, services, and offers for each individual customer – all fine-tuned for relevance to maximize consumer response.
Customers have come to expect more sophisticated personalization from brands.
Addressing them by their first name in a marketing email is a primitive example of personalization compared to what's considered cutting-edge by today's standards. Today's demanding consumers appreciate brands who are so in tune with their needs and preferences, they can anticipate their wants and needs even before they do (minus the creepy stalking vibe).
To meet this type of demand while also preserving user privacy requires a customer data platform (CDP) that's capable of collecting consumer data from both offline sources (like in-store transactional data) and online channels, and associate it anonymously with each customer to create a unified 360-degree customer view. Marketers can then use this repository of data to create segments of customers based on certain criteria (or, customer cohorts) that can be targeted to specific customers with messaging that's relevant to wherever they currently are in the customer journey in an effort to move them further along the sales funnel.
Retailers who bridge the gap between offline and online will have the edge
Although a whopping 80% of total retail sales take place in physical stores, most retailers are impeded by a disconnect between offline and online shopper identities, causing them to miss out on valuable data that could help them optimize their digital marketing campaigns for significantly better performance and higher ROI.
Offline purchase data has traditionally been somewhat of an enigma for retailers.
Although there's a growing offering of CDPs on the market that support the ingestion of in-store transactional data for identified purchases (purchases that can be tied back to customer identities using their email address, phone number, membership number or mailing address), there are far fewer platforms that support anonymous purchases.
The technological barrier to consolidating anonymous and identified customers in a single platform has impeded marketers' efforts to reach the anonymous portion of their audience, and the opportunity to generate repeat revenue from them. Pairzon's AI and Machine Learning technology, however, pairs in-store transactions from anonymous shoppers with their online identities, empowering retail marketers to find their in-store audiences online and create highly-targeted, personalized omnichannel campaigns that boost their engagement, brand-loyalty, and shopping potential.
In the Age of the Omnichannel Customer, data is the new currency for retail marketers
"Connecting with customers at scale is increasingly about personalization, intelligent automation, and in-moment adaptation based on where the customer is," says Forrester VP and Principal Analyst, Michele Goetz. "For many organizations, that's led to the realization that a cloud data and data-science platform to build models is only one part of the puzzle. Data and AI need to be at the edge of business in the applications, mobile devices, and machines where customers engage and interact with the business."
This is the new world of connected intelligence, and it's not just for the big tech companies — it's the required state for any modern enterprise.

Michele Goetz, Forrester VP and Principal Analyst
According to Twilio Segment's "2030, Today" report, 73% of companies say that a CDP will be critical to their customer experience efforts, and 61% say that a CDP will be critical to their personalization efforts.
Final thoughts…
As the abundance of first-party data continues to grow, the challenge for retail marketers will be how to eliminate data silos across the organization, consolidate this data into a single platform, and leverage it to deliver actionable insights that improve efficiencies and grow revenue.
Physical retailers who embrace omnichannel marketing now, and the right data intelligence platform to harness their first-party data and turn it into omnichannel marketing 'fuel', will set themselves up for success later.
LOOKING TO START CAPTURING YOUR OWN FIRST-PARTY DATA AND USING IT TO SERIOUSLY BOOST ROI?
Pairzon is an AI-powered, cutting-edge solution that pairs in-store transactional data with customers' online identities, providing Retail Marketers with unparalleled audience discovery, segmentation, measurement, and purchase intent prediction capabilities.
Get in touch to book a demo and see how Pairzon can help you create and target digital marketing campaigns with maximum precision to improve customer experience, boost ROI and increase revenue.